December 27, 2018 13:35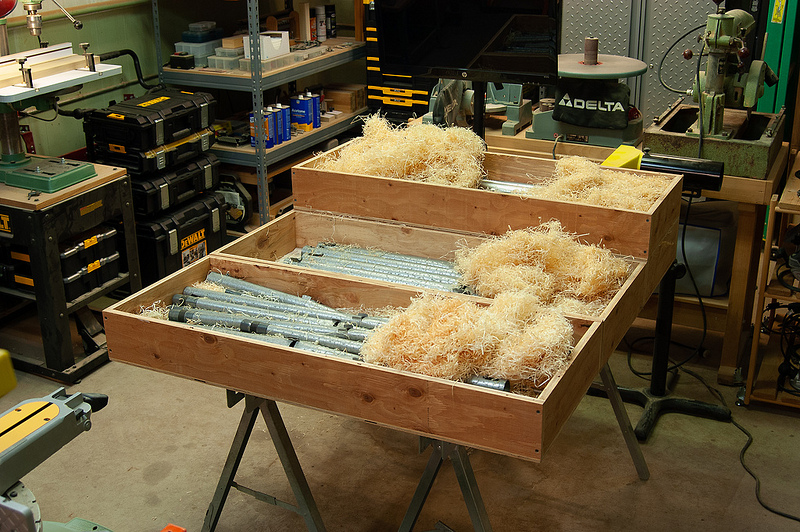 I had been keeping a few sets of pipes in workshop storage since I began organ building. Those in the foreground of the photo above are a partial set from a vintage 4' harmonic flute rank. The pipes came from the same source I obtained the three sets of pipes I used in the first organ I built. Many of those pipes gifted to me then were damaged beyond repair because they were packaged and stored improperly by the church that originally owned them. Those who dismantled the organ unfortunately used bubble wrap. Packing straw like that which is used to store and ship wine bottles also properly cushions organ pipes when crated for storage or shipment.
In the background of the photo and mostly under packing straw is the front pipe set of a principal 2' rank I had made by a pipe maker in the Netherlands for a small organ I was going to build on spec when starting out. I got my first commission before I began building that spec organ, and these became archived material.
I really thought the stored pipes would not be of value to an organ I would build, but I held on to them anyway. Having the opportunity to deconstruct the work of Ernest M. Skinner by having the opportunity to play and research his firm's orchestral Opus 892 at Northrop Auditorium on the University of Minnesota campus places this archived material in an altogether new frame of reference though. As I think about designing a new cabinet organ for client commission, I now believe the pipes could form part of that instrument in interesting and creative ways.
Posted December 27, 2018 13:35

RSS Feed
In addition to managing my evening and weekend organ building workshop, I also work at the University of Minnesota.
People at the University encouraged me to write about my thoughts and experiences regarding design and engineering as they specifically relate to the work I do in the shop, so I started a blog.
Here I include links to entries about design topics specifically related to pipe organ building.
Recent Blog Entries
Archive