New Build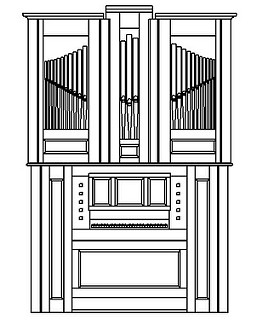 by Steve Panizza
This page provides the abstract for a new cabinet organ design that follows on former work.
Hohlpfeife 8' (notes 1 - 17)
Princip 8' (notes 18 - 53)
Flauta 8' (notes 18 - 53)

Bordun 4' (notes 1 - 17)
Prestant 4' (notes 18 - 53)

Flet 4' (notes 18 - 53)
Doublet 2' (notes 1 - 53)
Cornet I-II (notes 1 - 53)
The stop list above provides these outomes.

Provide enough tonal resources to accompany from one to many voices.

Provide enough tonal variation for the performance of literature appropriate to a cabinet organ.
The Princip 8' used either alone or in registration with the Prestant 4' provides a tonal resource needed for choral accompaniment.
One thing that the process of new design brings into focus for me is that former work, expressed in the reuse of archived design objects, provides the foundation for a family of new instruments waiting for commission by any group of like-minded individuals. Feel free to let me know if you are one of those individuals.

The outcomes specific to my work result from the application of a creatively analytic design process that produces an instrument bringing new life and perspective to its music, and one that is relevant to our time.
Contact Steve for more information.