by Steve Panizza
This page describes the first instrument I built as an independent builder. The church recently closed and the organ was removed and is now in storage. I have resourced my workshop to rebuild the organ into a more effective instrument for either worship or performance space.
Continue reading here to find out what the instrument was, then navigate over to the next section to find out what the organ can become.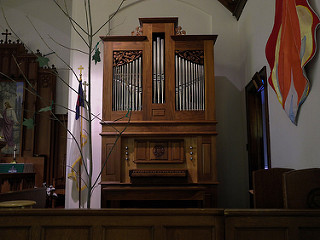 A Repurposed Tonal Design

The tonal design for this organ follows that of the late baroque southern German tradition while three sets of reused pipes provided motivation for the construction of this new instrument. Stored in a basement for a number of years, pipes available for the taking were about all that was left of value from an old church organ. Their late Victorian character held much promise for reuse, and I built this organ to incorporate them.
The exact date and origin of the old pipes is unknown despite some research. Their construction suggests that they were probably made between 1890 - 1910.
Hohlpfeife 8' (old pipes, divided at tonal-f)
Viol 8' (old pipes, from tonal-f)
Flaut 4' (old pipes, open wood)
Octav 2' (new pipes)
Quint 1 1/3' (new pipes)
51 note manual
27 note pull-down pedal


The OHS Pipe Organ Database listing for this instrument can be found here.