by Steve Panizza
The instruments I build are studies in tonal design. Descriptions follow on this page. The instruments do not dominate a musical setting, but rather contribute where most effective either alone or in combination with other instruments or voices.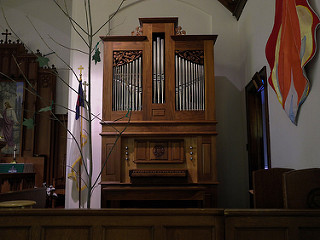 A Repurposed Tonal Design, Op.1

The tonal design for this organ follows that of the late baroque southern German tradition while three sets of reused pipes provided motivation for the construction of this new instrument. Stored in a basement for a number of years, pipes available for the taking were about all that was left of value from an old church organ. Their late Victorian character held much promise for reuse, and I built this organ to incorporate them.
The exact date and origin of the old pipes is unknown despite some research. Their construction suggests that they were probably made between 1890 - 1910.
Hohlpfeife 8' (old pipes, divided at tonal-f)
Viol 8' (old pipes, from tonal-f)
Flaut 4' (old pipes, open wood)
Octav 2' (new pipes)
Quint 1 1/3' (new pipes)
51 note manual
27 note pull-down pedal


The OHS Pipe Organ Database listing for this instrument can be found here.
The person who originally donated the pipes that provided motivation for the construction of the instrument wrote the following. His name is Gerald Danzer, PhD.
Steve Panizza is a talented young man who recycled some old 19th century organ pipes I had been storing in a basement into this splendid cabinet organ for my son's church. He has just completed tuning the instrument and it is a spectacular success.
I include a copy of Jerry Danzer's letter in the gallery section below. For more about history professor Jerry Danzer himself, look here.
Finding a New Home
by Steve Panizza

The organ was built twenty-two years ago for a church that closed about three years ago. The building was purchased by an African American Apostolic congregation which had no use for the organ. It was recently advertised for sale and subsequently purchased and removed by a young organ builder in Milwaukee who is just starting out, but whose interest lies in mechanical player instruments. He comes off a 3 1/2 year apprenticeship in Germany. He was impressed enough with the tonal and visual design of the organ I built to consider it worthy of saving.


The builder who removed the organ from the church recorded a short video to demonstrate its tonal diversity and sound. Even though the organ has not been tuned in over three years, it still sounds beautiful. You can find the video recording here.


He is interested in partnering with me to relocate the organ and perform a few simple alterations to in our view make the instrument world-class. I am excited to potentially get a large piece of my design history back and placed in a location where it could function as I originally intended it to, as an instrument for collaborative performance or worship. This could be another church or even a multi-use performance space hopefully located here in Minnesota close to me, the original builder.
Design ideas for the new project are set. You can read about that here. Please also be sure to read further down for more thought in depth on the recovery and reuse of material specific to this instrument.
Architectural Redesign

by Steve Panizza

I was having lunch and talking with a University colleague about the availability of this organ and the possibility of relocating the instrument here to Minnesota when he mentioned the alluring thought of placing the instrument in a performance space on the University of Minnesota campus. My opinion was that its simple period case design replicating a typical country parish organ would preclude that.


However, I am willing to partner with an interested client and work out a new case design based on the Grand Avenue-Macalester referenced structural architecture I developed after moving here to Minnesota, one characterized by early-century, industrial-agricultural affluence. The estimated final cost - per agreement - is more than reasonable, and the design could easily be built in my current workshop.
Tonal Modification
by Steve Panizza

The existing windchest grid if retabled will accomodate a Prestant 4' in the treble using a shared bass with the Flaut 4'. The 8' stops also share a common bass. The stop list is given below. While this represents a more extensive rebuild, enough material exists from the current organ to still make the project cost attractive. The new 4' principal stop while further reinforcing the plenum tone, provides a registration suited for choral accompaniment when combined with the Hohlpfeife 8' stop.

Hohlpfeife 8' (old pipes, divided at tonal-f)
Viol 8' (old pipes, from tonal-f)
Bordun 4' (stopped pipes, notes 1 - 17)
Prestant 4' (new pipes, from tonal-f)
Flaut 4' (old pipes, open wood from tonal-f)
Octav 2' (from original build, notes 1-25 in front)
Quint 1 1/3' (from original build)
Radical Innovation

by Steve Panizza

I had the opportunity to discover wood pipes with triangular cross section belonging to Aeolian-Skinner Opus 892 while up in the pipe chambers at Northrop Auditorium at the University of Minnesota and decided to make examples of my own design in the workshop. This led to more experimentation which led to the development of a triangular harmonic pipe that speaks on relatively low wind pressure. You can read more about that here and here.
Omitting the Viol 8' and replacing the treble Flaut 4' in the stop lists above with a set of wood pipes with triangular cross section would open up more space on the windchest for something like either a treble Princip 8' or two rank Cornet, the former appropriate for choral accompaniment, while the later reminiscent of the organs of Riepp or Silbermann. Something to think about with regard to a rebuild.
Why Rebuild
A pipe organ is without question built as a tonal and visual design for its space and for those who occupy its space. Existing organs are often modified to better fit their new locations either before or after relocation. It is always more cost effective to consider what alterations one might perform prior to, rather than post installation. Total cost can still be kept relatively reasonable if appropriate consideration is given to the reuse of existing material.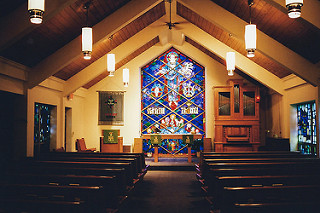 An Alsace Influenced Cabinet Organ, Op.2
Design of this organ was based on my study of French and Southern German Baroque instruments. The organ proves the effectiveness of a one-manual divided stop pipe organ for use in liturgy. All stops except the Fourniture are divided between bass and treble to allow greater variety for registration than would otherwise be possible.
The organ consultant had this to say in his final report to the congregation.
The organ casework is exceptionally well done, a beautiful balanced design. It is a lovely addition to the church's decor. The tonal resources for such a small number of pipes is exceptional, and can be used in many ways even though the organist is working with only one manual and pedal. I do congratulate Mr. Panizza for his overall design and am impressed with the foundation tone of the 8' 4' and 2' pipes for accompanying the hymns and liturgy.
I built this organ alongside the instrument described above, and although much different in terms of tonal design, together they each share mechanical and case design as you can see in the gallery below of photos taken during construction.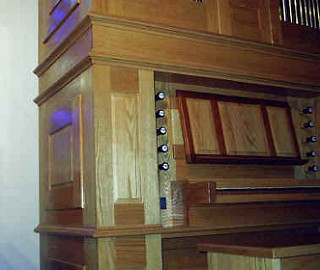 Bourdon 8'

Flûte 4'

Nazard 2 2/3'

treble only

Doublette 2'

Tierce 1 3/5'

treble only

Fourniture I

Cromorne 8'

bass only
51 note manual
27 note pull-down pedal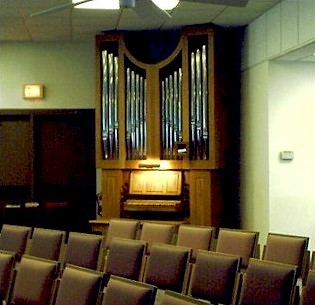 A Contemporary Visual Design, Op.3
I based the tonal design of this instrument on the French baroque. The plenum or core sound is well developed. The organ brought a fundamentally honest interpretation to a variety of literature.
The best way to have described the design intent of the organ is that it combined the color of Clicquot with the intimacy of Tannenberg.
Flûte du bois 8' (open wood divided stop)
Prestant 4'
Nasard 2 2/3' (divided stop)
Doublette 2'
Cymbale III
Vox humaine 8' (treble only)

53 note manual
27 note pull-down pedal

A recording of the Kyrie from the Schubert Deutsche Messe using the 8' and 4' stops together can be found further down on this page, a beautiful registration for choral accompaniment.